As often as possible I love ranting and giving due credit to those who have paved the way for my success in Life, Business and Ministry.
These people all hold are dear and loving place inside of my heart. Most of you can probably relate to me in this respect and have similar people in your
life as well. A lot of people make the mistake of crediting these individuals as their mentors. X! Wrong!
You must be very careful who you call your mentor because a mentor is one who not only provides guidance to you
but this is a person who you submit to in the area of interest. I bet some of you have just hit the delete button on the title of mentor for people who
you have given that title to. Below is an article that can help you determine how to find the right mentor for you.
If you enjoy this post please comment and share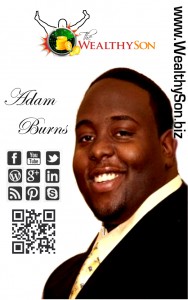 Email: AdamBurns@WealthySon.Biz
Work With Me – The Best Kept Secret
PS: If Your Upline Does Not Have a Step-By-Step Blueprint For Success, Check This Out (Unless You Already Have Too Many Leads) – Click Here For Instant Access
———————————————————-
No man is an island, and every entrepreneur needs a support network. While it's important to have a network of peers, friends and family, it's equally important to have a mentor to act as a sounding board, hold you accountable and be the voice of reason. But finding the right mentor is about more than just finding someone you admire and asking them for advice.
So we asked members of the Young Entrepreneur Council (YEC), an invitation-only nonprofit organization comprised of the country's most promising young entrepreneurs, this question:
"As a Gen Y entrepreneur, what do you look for when seeking out mentorship from business leaders?"
Here's what they had to say:
1. Failure Plus Success
"I want advice from people who've done it a few times, and seen failure and success along the way. Failure gives an entrepreneur a lot of insight into the raw process of building a business. Alongside a breath of experience I look for specific domain knowledge–someone who's got deep insight into distribution, fund-raising or product development, for instance. Specialized insight is valuable." ~ Derek Shanahan, Foodtree
2. Experience in My Industry
"You should select your mentors based on their lifestyle. For instance, if you want to run a big technology company someday, then it's wise to choose a tech executive. On the other hand, if you want to become a professional speaker, you should go after an experienced speaker who can offer you insights and advice." ~ Dan Schawbel, Millennial Branding
3. Someone Who Aligns With My Values
"There are tons of successful people in the world; however, only a few will truly align with your values and world view. Make sure to find a mentor who can truly connect with your vision of the company and how you are looking to change the world. Also, look to see if their track record is similar to the one you envision for yourself." ~ Brenton Gieser, JoynIn
4. More Than Just Advice, Relationships
"I look for a successful individual in a complementary business to my own–someone who has established relationships with a network of potential partnerships. By involving a mentor in the process of building my business, he or she will take pride in it and want to see it grow and prosper. With their existing relationships, the access is just an introduction away." ~ Benjamin Leis, Sweat EquiTees
Continue reading this article at SmallBizTrends.com
credit author http://wealthbuildingdaily.com/2011/11/14/a-mentor-what-every-leader-needs-to-succeed/