I am a stalker….
It's the truth!
I am a marketing stalker.
I can't help it. I peruse around facebook looking through the 1,000's of pitches, post, pathetic attempts to recruit in search of material that works and catches my eye.
This can all be good and bad.
It is so vitally important for me to remember who I am when I am looking for these marketing treasures.
Yes sometimes I forget that I human and not a SuperKickButtRobotMaster Marketing Samurai!
LOL!!!
You know I am not by myself. How many times do you put out some killer copy, email, facebook post or whatever medium you are using and find that you were alone in the likings.
Well two things you weren't alone! It is quite possible that you were marketing to consumers with a marketers pitch.
We often forget to sell the dream of the masses and not the business owner.
Let me help you out with what I mean.
As marketers we develop new taste and likes and when we market we often times show it. We often get a taste of what the lifestyle really is and it shows in our marketing for example:
Business owner enjoying his top floor city view office…. Attract a few
Sell the dream……Attract the masses
I hope this helps.
Your viewers want to know whats in it for them and want the dream!
There is a better way folks and today is your day!
Adam "TheWealthySon"
——————————————————————————————————–
Make sure You Leave Comments and Like and Share on every social outlet
Success is a planned event get some guts, a coach, a strategy and get laser focused.
If you enjoyed this post please comment and share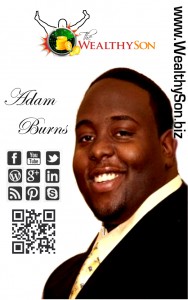 Email: AdamBurns@WealthySon.Biz
Work With Me – The Best Kept Secret
PS: If Your Upline Does Not Have a Step-By-Step Blueprint For Success, Check This Out (Unless You Already Have Too Many Leads) – Click Here For Instant Access