LEADERS Listen up…..
I know many of you are sick and tired of spending 70% of your time trying to keep your team from quitting.
You call it motivation I call it protecting your check….
Is this what you signed up for?
BABYSITTING?
I found out the secret to making that 70% a mere 7%!
What?
By the end of this post I am going to rejuvenate your passion for your business and off enjoying the things that signed up for: relaxing, enjoying family and friends,  traveling shopping, personal development,  golfing,  building bigger dreams, investing, balling out of control, enjoying life and the lifestyle you have worked so hard to achieve.
I mean what good is that phat crib of yours of you spend all day wondering how long it will last or never enjoying it because you have to keep turning that revolving door.
I have observed that teams that are making money and having fun don't need to be convinced to stay around.
It's the truth!
I know it sounds crazy but if you can simply help your average team member eliminate the overhead cost and help them make an extra $ couple hundred bucks a month they will not leave you.
Face it your team is comprised of working class people and most are okay with their jobs but just want to have some gratification and some fun money after the bills are paid.
Your average team member is not looking to quit  their job.
I no its a shock but it's true. They just want a slight upgrade to their existing lifestyle.
Keep in mind that this may change for them later but your focus has to be their goals not yours. If they are good with $250 stop pushing them to make $2500
If they are happy they will cause for an environment where $25,000 a month earners want to be.
Admit it!
Your retention problems are because your people are spending more than they are bringing in and some are working their backs off and still not cutting it.
Ask yourself if every person on your team was in profit mode how hard would it be to recruit?
How Hard Would It Be To Have People Transition To leadership?
How quickly would people rank up because of the momentum?
OK here's the bad news….
You may be right leader but you might be in the wrong deal….
I know transition sucks but  so does stress.
You need to find a company that will be conducive for your vision not just one that pays you…. You say you want to help 1,000 people get financially free but the reality is only 11 of you are.
I personally hate transition to but I am having the most I have had in a while because I am confident that when people join me and I mean average people with no skill or experience in the industry join me that they will win.
Not because I'm special….
Not because I create superkickbuthotfire marketing content…
Not because of me at all for once…
Simply because of the money making fun loving culture and environment that my company has created. ..
The CEO did the unthinkable. .. He leveled the playing field…
Most marketers hate it because the guess work is gone and the need for extra tools and other crap is gone….
LOL
He made it so the masses could win and they are.
It's one of those love hate relationships…
You hate it because you secretly like being the center of why the ship is successful but you love it because your people will win. …
This company is a rule breaking company:
Low startup cost
The leaders actually enjoy their lives
Top income earner has no experience and as a million dollar earner still doesn't totally understand the comp plan
Over 70% paid to the field
Flip flops are the shoes of choice
The little guy wins
Paid in full bonuses
The marketing system is included
I could go on and on…
But enough about the company
THE MORAL OF THE STORY IS YOU MUST CREATE AN ENVIRONMENT WHERE THE MASSES ARE WINNING AND WITH OR WITHOUT THAT WOULD BE THE CASE…
Final Thought: lasting success only exist when your cruise ship sails without you but it's a heck of a party with you on deck
If you are tired of being the Big Fish and tired of the revolving door check this out…
There is a better way folks and today is your day!
Adam "TheWealthySon"
——————————————————————————————————–
Make sure You Leave Comments and Like and Share on every social outlet
Success is a planned event get some guts, a coach, a strategy and get laser focused.
If you enjoyed this post please comment and share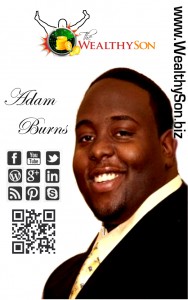 Email: AdamBurns@WealthySon.Biz
Work With Me – The Best Kept Secret
PS: If Your Upline Does Not Have a Step-By-Step Blueprint For Success, Check This Out (Unless You Already Have Too Many Leads) – Click Here For Instant Access