<<<<=====Share on Facebook Here and Google+ above
If you Like, RETWEET HERE============>>>>
And Comment Below!
Master Life When you Master Time
Okay we are back to our regularly scheduled events.
I hope you had a fantastic Thanksgiving.
I sure enjoyed mine.
It was full of Family, Football and Great Food. (My Redskins Won)
I totally felt like working through the holiday but instead I devoted my time to God and family.
Not to mention I got a bunch of R&R.
* I know many of you will have questions for me after reading this. Place your questions in the comment section and/or e-mail me.
So for the last week here we have been discussing how I am taking control of my time and becoming a Master of Life so that I am set to prosper in every area of my life.
Well finally you are going to see what my schedule looks like and how I have incorporated balance into my daily routine.
I have attached my list of priorities so that you can see how this madness all started. Excuse the girly stationary I took the paper out of my wife's notebook. When I got the epiphany I wasn't worried about what I wrote it on I just knew that I needed to take action so I grabbed the closest thing to me that I could write on. This was a list that took me all of Sunday to write out. I didn't want to miss anything so I let it compile before I went and set up my schedule.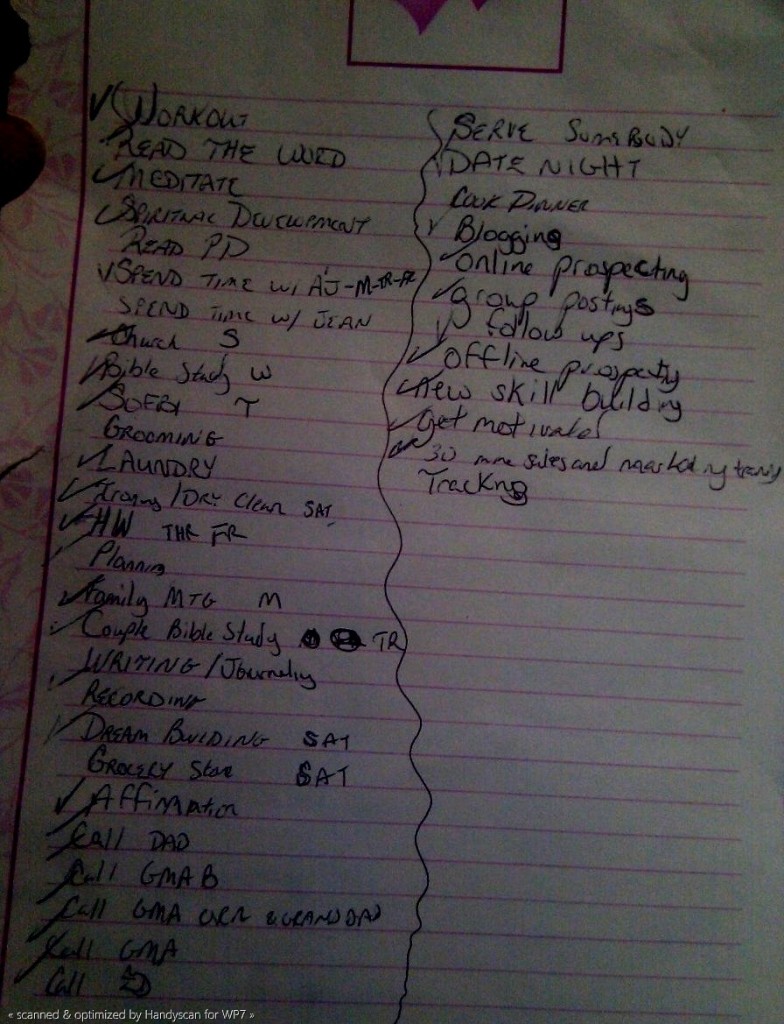 So how exactly did I come up with this list?
Well I thought about the fact that there were only 24 hours in a day and my mind was pretty much set on the fact that it was almost impossible to do all the things in a day based upon how I was currently living life. So I made a list of the important things that had to get done
The most important part of my schedule is me. I am a three part being spirit, body and soul.
In order to master my Life I must take care of me first and in doing so I will function in the other areas of my life more affectively. So I started writing things down that would stimulate my spirit, body and soul.
Another important component to

Me

is my mind.
"For as he thinketh in his heart, so is he"- Proverbs 23:7
So the next step after taking care of me is to nourish the other four areas of full prosperity in my life: Faith, Family, Finances and Fellowship.
Like I said I took the bulk of the afternoon on a Sunday outlining all of these things. It is important that you take this time to write out your areas of importance because they all work together.
 "Beloved, I wish above all things that thou mayest prosper and be in health, even as thy soul prospereth." – 3 John 1:2
There is power in having a single mind of focus.
As I go about my day submitting to my schedule my mind is 100% focused on the current task because I have confidence that I have allotted time to cover all areas of concern.
This is powerful because many times you can be your own biggest distraction.
I am much more efficient with my task and I perform 100% better than before.
It amazes me how I no longer drift off thinking about what has to get done. I work during the time I have set for myself and when I get a text message telling me to move on to the next scheduled event I do. What doesn't get done then so be it its always tomorrow.
So that you can see how I put my thoughts into time I also have included a screen shot of my Monday schedule.  As you can see I use Google calendar. So that I stay on top of my schedule I have set a reminder to come to me via text message before every scheduled event.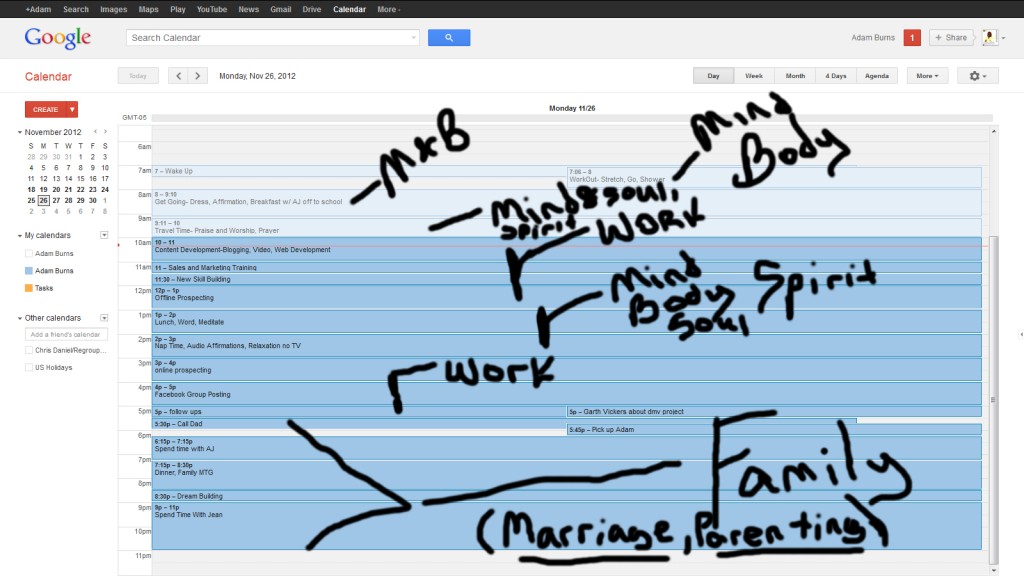 There are important things that I do every night that is not on the schedule. They are as follows:
Journal about my day (Penzu)
Read the Bible
Read at least 15 minutes usually 30 minutes of a self-enriching book.
I also log my time and prayers (excel)
I think this is a great place to end.
I do want to add one thing. One of the most important things that I did over the Holiday was maintained my morning routine. Why?
It would be easy for me to quit if I took a break from doing it even for a few days.
Success is a planned event get some guts, a coach, a strategy and get laser focused.
If you enjoyed this post please comment and share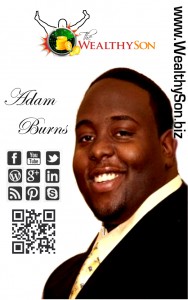 Email: AdamBurns@WealthySon.Biz
Work With Me – The Best Kept Secret
PS: If Your Upline Does Not Have a Step-By-Step Blueprint For Success, Check This Out (Unless You Already Have Too Many Leads) – Click Here For Instant Access