<<<<=====Share on Facebook Here and Google+ above
If you Like, RETWEET HERE============>>>>
And Comment Below!
Saving Lives Can Come at a Cost
Maybe even your own.
Question?
Will you pay the price?
How much are you worth and who defines it?
Most people will answer that question with "priceless"!  Well okay "Mr.Priceless" If you are so priceless why do you allow your self to suffer a third of your day for a wage?
I don't want to hear how much you love your job either. Before I say that let me ask you would you do it for free? Better yet would you pay to do it?
At this point I bet you are thinking that here comes my ploy to pitch you on why you should be in business.
Well not this time! This is really about changing how you live as a whole.
Why arent you living out your passion? Why arent you spending more of your time serving others.
The point of this article is simply to get you to put a higher value on your LIFE  because if you dont somebody will eventually start dictating how much the remaining 16 hours are worth.
Most people never even think about the value of their life let alone what somebody else would pay to save it.
I saw a video earlier that had me thinking about what I mean to the world and my daily activities to make my life worth saving.
WOW!
If you were caught up in a life or death situation what are you contributing to the world to make a stranger willingly risk there life and pay to save you?
So before I share the video with you I want you to consider the cost of saving your life.
I will leave you with this thought…
Investing in yourself can make the person who could potentionaly save your life world famous.
Thats how much you are worth or is it?
If you enjoyed this post please comment and share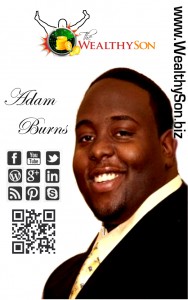 Email: AdamBurns@WealthySon.Biz
Work With Me – The Best Kept Secret
PS: If Your Upline Does Not Have a Step-By-Step Blueprint For Success, Check This Out (Unless You Already Have Too Many Leads) – Click Here For Instant Access