Now everybody who has ever done Network Marketing at some point in time has attempted to share there opportunity with their friend and family aka warm market.
Some of us have totally messed this piece up because one day we were talking about going t the club and getting trashed at the house to the next day as this hot shot business owner.
Really?
A Big Business Owner you can't be serious. Thats exactly what your warm market thinks when you call them with that approach.
One of my Internet Success Coaches wrote on this very subject and I felt Like I had to repost this.
Check out his blog, subscribe to his list and like his post.
More importantly apply it to your business immediately.
If you enjoy this post please comment and share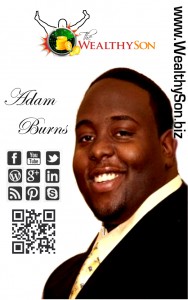 Email: AdamBurns@WealthySon.Biz
Work With Me – The Best Kept Secret
PS: If Your Upline Does Not Have a Step-By-Step Blueprint For Success, Check This Out (Unless You Already Have Too Many Leads) – Click Here For Instant Access
——-
MLM Prospecting: How NOT to Look Like an Idiot to Your Friends
July 6, 2012
MLM Prospecting:
How NOT to Look Like an Idiot
to Your Friends
mlm prospectingToday I am here with my friends Dave Strayer, Terrie Foley and Kevin Sandridge at my coaching day and I did this quick video on how to talk to your warm market without looking like an idiot, enjoy!
MLM Prospecting Question…Should you even bother talking to your warm market?
The answer is without a doubt, yes! The ONLY reason people struggle with this is they feel too much like sales people to do it and don't know how to properly position it or they just think they can "close" their friends and family. MLM prospecting truly does NOT have to be that hard.
By the way, You should never try to "CLOSE" your warm market
In this video you will learn the following:
– How to open up the conversation with anyone in your warm market without turning them off
– How one question, if properly asked, will totally change your results with people you know
– How to ALLOW your friends to "Sell themselves" (less work for you!)
– And how to use other people's credibility yourself
– Why most are terrible at MLM prospecting and how you can be better
Video: Proper MLM Prospecting of your Warm Market

Know someone who could benefit from this video? Share on Facebook!
If you enjoyed this post please comment and share if you want more content like this
Ray Higdon Profile Image
Ray Higdon