VIP Early Access to Videos From The Traffic Playbook
Apparently two top marketers in the industry, Ray & Ferny, spoke at a private event in Dallas and while on stage shared the audience a brand new, proven strategy oh how to whip up 20+ leads per day using a super-simple method.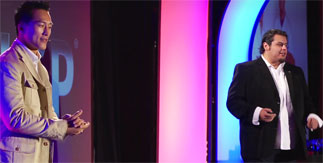 They've been perfecting this method for the past 14+months now with some of the biggest brands in our industry and the results are truly CRAZY.
Attendees paid over $300 to attend (and had to pay for flights, lodging, and food) and some even flew across the Atlantic Ocean (over 6,500 miles) just to see their presentation LIVE.
However… Ray & Ferny got a bootlegged recorded version that they will be releasing on Monday November 5th at 9 AM PST.
I wanted you to be the FIRST to see these videos because I know you, like me, can always use MORE traffic, MORE leads, and ultimately MORE cash.
… and because I love you and you are one of my valued Readers and Subscribers
Here's the VIP link to get on their "First in Line" list to get access to these videos when they are released Monday 9 AM PST.
http://vip.traffic-play-book.com/
Adam "TheWealthySon" Burns
P.S. No credit card or purchase is required, but promise me you won't get offended at what they say on stage though k?